OUR MENUS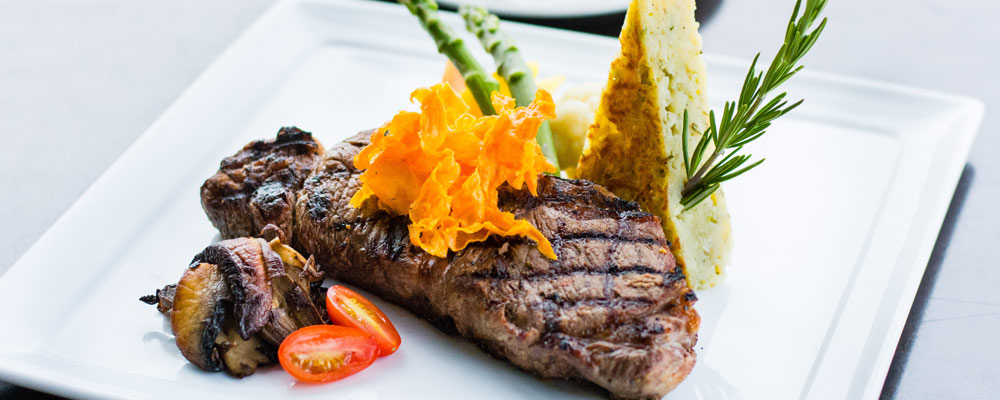 Group Menu
Soup of the day
Mushroom puff pastry
Fresh salmon gravlax
Prosciutto di Parma with fig chutney
Spanish style grilled octopus (peppers, onions)
***
Antipasto
Fried calamari, 1 giant cocktail shrimp, tomato/mozzarina
***
Mixed green salad, italian dressing
***
Pennette Salsa Rosa with chicken, sundried tomatoes, spinach, pine nuts and goat cheese
Lunette with truffles, creamy sauce with mushrooms and pecans
Tortelloni stuffed with goat cheese and rosemary, with pulled lamb
Risotto with mascarpone, shrimps and scallops
Santorini shrimps
(sautéed shrimps, olive oil, garlic, shallots, fresh tomatoes, black olives, feta, ouzo)
Fillet of fresh fish, catch of the day
42.00-49.00
Milk-fed veal scallopini (wild mushrooms, white wine and cream sauce)
Chicken supreme stuffed with prosciutto and fontina, Marsala and mushrooms sauce
Braised lamb shank (6h) on a bed of fettuccini with mint pesto
Rack of lamb Calvi style in a pistachio crust
Pork osso bucco and it's risotto perfumed with truffle oil
Grilled Sterling beef strip loin (10oz), green pepper sauce
Fresh Chilean sea bass, sautéed spinach,
edamame and fresh tomatoes, citrus beurre blanc
Desserts
Please make 2 choices to complete your group menu.
Crème caramel, orange marmalade, roasted almonds
Tartufo (Italian ice cream)
Hazelnut cake with Frangelico
Homemade triple layered chocolate cake
Customized cake for special occasions
Strawberry cheesecake, hazelnut or chocolate cake, ask us for our prices
If you bring your own cake, charges of 3$ per portion will be charged
* If you bring a cake or order a customized cake, we ask that one person takes care of the charges. Thank you for understanding
• Price includes a choice of starter, salad, the main course, as well as coffee.
• For group of less than 40 people, you must choose two appetizers and three main courses from those listed above. For group of more than 40 people, you must choose two appetizers and two main courses from those listed above. To ensure the availability of the products, please make 2 choices of desserts to complete your group menu
• The antipasto and the extras are to your discretion. Taxes and service are not included in prices.
• A deposit is required to confirm your reservation.
• If you do not wish for the prices be listed on your guests' menus, please advise us.
• Confirmation of final number of guests is required at least 14 days prior to reservation date.
• We allow a 10 to 15% no-show rate per group. Anything above that is subject to a $20.00 fee per absentee, charged to the same credit card on file for the reservation.
• No location charge is required for our private rooms, but a 50$ minimal invoice per person is requested.
. Some of our private rooms are on the 2nd floor. Please tell us if you have people with reduced mobility in your group.
• It is possible to create your own customized group menu from our à la carte items. Contact us for prices.
* Our prices and choices are subject to change depending on arrivals



* Menu items and prices are subject to change without notice and are displayed for informational purposes only.
---
RESERVE NOW